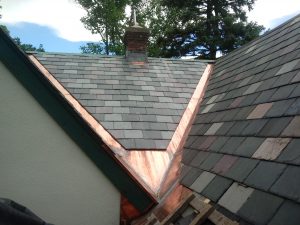 Copper has earned a respected place in the related fields of architecture, building construction, and interior design.[6] From cathedrals to castles and from homes to offices, copper is used for a variety of architectural elements, including roofs, flashings, gutters, downspouts, domes, spires, vaults, wall cladding, and building expansion joints.
The history of copper in architecture can be linked to its durability, corrosion resistance, prestigious appearance, and ability to form complex shapes.[7] For centuries, craftsmen and designers utilized these attributes to build aesthetically pleasing and long-lasting building systems.[8]
For the past quarter century, copper has been designed into a much wider range of buildings, incorporating new styles, varieties of colors, and different shapes and textures.[9] Copper clad walls are a modern design element in both indoor and outdoor environments.
Copper's most famous trait is its display from a bright metallic colour to iridescent brown to near black and finally to a greenish verdigris patina. Architects describe the array of browns as russet, chocolate, plum, mahogany, and ebony.[17] The metal's distinctive green patina has long been coveted by architects and designers.
Benefits of Using Copper
Corrosion resistance
Durability/long-life
Low thermal movement
Low maintenance
Lightweight
Ventilation
Radio frequency shielding
Lightning protection
Antimicrobial
Sustainability
Recyclability
Cost effectiveness
If you are considering using copper roofing, down spouts, gutters, or other copper elements on your home, please consider giving us a call. We are very experienced in using copper materials. We will help your home look fabulous!
Excerpted from Wikipedia, the free encyclopedia
6. Kireta Jr., Andy (2009). The copper advantage, Metal Architecture, June 2009; www.metalarchitecture.com
7. Austin, Jim (2006). Copper: The peacock of metals, Metal Roofing, April–May 2006; www.metalroofingmag.com
8. Seale, Wayne (2007). The role of copper, brass, and bronze in architecture and design; Metal Architecture, May 2007
9. The Guide to Copper in Architecture; European Copper in Architecture Campaign; http://www.copperconcept.org/sites/default/files/attachment/2011/pubpdf145.pdf
17. The glory of copper; Metal Roofing Magazine,December 2002/January 2003