How Roofing Materials Work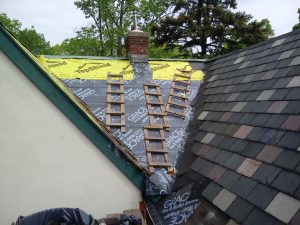 Today roofs are usually made of an asphalt/fiberglass combination or wood shingles. Some small, flat roofs are done with tar, while rubber is quickly becoming another easy roofing option. As people aim to live "greener" and find materials that require less maintenance and upkeep, new trends are emerging in the roofing industry. Though metal roofs can be expensive and require professional installation, they're becoming a popular roofing material choice because of their longevity. Aluminum and steel are the most common metals used for roofing, but you might even be able to get a copper roof.
Metal roofs are also becoming increasingly popular because of their fire-resistance. They're also lightweight and reflect the sun, which can help lower summer cooling bills — a nice added bonus. And although metal roofs often require professional installation, they're still easier and quicker to install than traditional roofs.
In this article we'll explain metal roofing materials, as well as roofing underlayment materials. Grab your hard hat and read on to find out about the five main types of materials used in metal roofing.
Metal Roofing Materials
Now you know that your new metal roof won't be corrugated tin. There are five basic metals — varying in longevity and price — that are used for roofing.
Steel — Steel is the most common metal roofing material. It's sturdy, and experts have spent a lot of time determining the best ways to protect it from rust. Manufactures generally use a zinc coating, a sealant and some heavy-duty paint to protect the material from the elements.
Stainless steel — This option doesn't need the extra coatings that steel does because it's designed not to rust. However, because of its built-in anti-corroding properties, stainless steel is a pretty expensive metal roofing option. If you're interested in a stainless-steel roof without the cold, clinical look of steel, there are coatings that can make it look more natural.
Aluminum — If you're looking for something lightweight that won't rust, aluminum could be your metal roofing material of choice. Like stainless steel, though, you'll need to coat it so that it looks more natural. This is the most popular option for residential metal roofing, so there is some concern about using this finite natural resource for roofing when other materials could be used.
Copper — This option is becoming more and more popular, especially as an accent choice on houses and buildings, though you won't see a shiny penny for very long. Over time, copper will weather to a green color that you may notice on older buildings. Though copper can be very strikingly beautiful, whether as a new shiny reddish-gold or an oxidized blue-green patina, it's also very expensive.
Alloys — You can use various different metal alloys for metal roofing materials, depending on what you're interested in. Maybe you need a lot of strength or want it to last for a long time. You can get differently formulated alloys to fit your needs. Though cost is determined by exactly what the alloy consists of, these can be an expensive metal roofing option.
Roofing Underlayment
With all the seams in a roof — especially with traditional shingles — there has to be a layer of protection between the roofing materials and your house. That's where roofing underlayment materials come into play.
It used to be that an asphalt-saturated building paper acted as a weather barrier between roofing materials and the roof [source: Toolbase]. Today, there are many options for roofing underlayment materials — rubberized asphalt to organic, fiberglass to synthetic. The right underlayment for your roof will keep moisture, cold weather and stifling summer air out, giving your roof a longer life. Many have anti-slip technology to protect the people who install the roof, and they can be exposed for up to six months while the roof gets built. If going green is on your agenda, you can choose from organic underlayments, as well as synthetic ones that can help your home become Leadership in Energy and Environmental Design (LEED) certified.
Whatever is most important to you, roofing materials can provide a variety of options to suit your needs, from organic underlayment materials to classy copper roofs. Who knew a roof could have so much personality?
Source: How Stuff Works
If you have any questions about roofing materials, feel free to contactus.