Copper Conservatory Skylight Project
One of J.L. Goode's more recent projects was completely rebuilding the copper conservatory skylight in Newton, Massachusetts.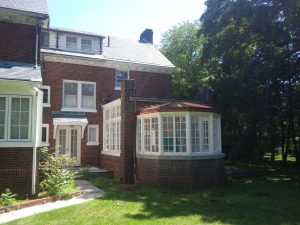 The owner of this 1920's home had the the glass in the skylight replaced in the '80s. However the glass was laminated and didn't stand up to the New England weather and the lack of snow retention on the slate roof above. During the heavy snows of 2015, snow slid down onto the glass and it caved in.
It took four years for the homeowner to find someone who could repair the roof properly, but luckily she then found J.L. Goode Roofing. All of the pieces from the old skylight framing had to be found, some covered with temporary roofing and some put away in the garage, and piece them together like a puzzle to create a new, stronger copper frame.
Once the pieces had been duplicated, they had to be fit and soldered together. A cooper gutter and condensation gutter were added so that when water condenses on the glass, it drips down along the gutter on the bar and gets diverted into the condensation gutter. This releases the water and prevents it from dripping inside.
Then each piece of glass had to be fit into the newly-created copper framework. Each piece of glass was 4 feet wide at the bottom and 7 feet long.
Copper caps were then installed on the top to hold the glass in place and the conservatory skylight its beautiful, finished look.
If you happen to know someone who is looking to update or replace their copper conservatory skylight, please have them contact us. We'll be happy to help them.